Watch Video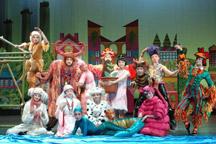 Play Video
During the current performance month of China's outstanding national art troupes, dramas for children have not been neglected. Now, under the spotlight is China Children's Art Theatre who stages the 12 animals of the Chinese zodiac.
The 12 zodiac animals are so well known in China. The 12-year cycle offers an easy way to assist one's memory. Young or old, almost everyone can answer which year of the zodiac animal he or she was born. While for today's children, the traditional zodiac cycle is telling a new tale that includes today's biggest challenge... protecting the environment.
Behind it is an international team that is ambitious to share the story with a wider audience by overcoming the barrier of languages.
Zhou Yuyuan, Head of China Children's Art Theatre, said, "The language barrier has been a major obstacle for the international exchange of our theatre since we were founded 55 years ago. But this show has helped us changed the situation. In the past four years, we brought the show to South Korea and Japan and last year we staged it in Australia, because the show is expressed through music, dance, and body movements rather than language. It's our attempt to more easily gain access to an international audience."
It sounds simple, but it's a hard task to accomplish. To break the tradition of dialogue requires all-out innovation from the entire production team.
Editor:Yang Jie |Source: CNTV.CN