Watch Video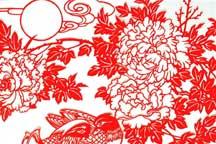 Play Video
With the Mid-Autumn Festival just around the corner, the celebratory events are in full swing in the capital, heating up the festive atmosphere.
One example was an exhibition at the Museum of Imperial Granary over the weekend. The event brought together multiple generations of Chinese folk artists who all demonstrated their unique flair and fine cultural tradition.
Visitors saw an array of traditional Chinese handicrafts, including dough figurines, clay figurines, and painted Peking Opera masks.
One of the participants was Lu Hongwei, a seventh generation successor of the Deshun School, which specializes in making shadow puppets.
With merely a carving knife and a pair of dexterous hands, Lu magically turns raw leather material into a vivid shadow puppet character.
Also at the exhibition is dough figurine artist Lang Jiashan, who was born in the 1980s. Although comparably young, Lang has been making dough figurines for more than a decade.
Lang is able to form various figures from a simple flour paste. She says she's happy to be carrying on the folk art tradition, the pith and marrow of Chinese culture.
Related stories
Editor:Liu Fang |Source: CNTV.CN