Watch Video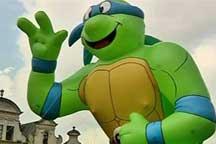 Play Video
A parade of huge floating balloons was held in Brussels last Sunday for the second year running. The event is held to promote the country's comic heritage. Let's see what's floating down the street.
Ninja Turtle, Betty Poop, Smurfs -- comic strip characters are at the heart of Belgian culture and history. So, these huge inflated balloons brought cheer not only to children, but also put a smile on many adult's faces as well.
Nick Deluca, big events team, said, "We can do it in anything but wind, so it's just take some experience to know what to do, and make sure you don't hit any light posts, wires, not get anything down or let go, that's important."
The parade was part of a series of events celebrating what they called "the 9th art" -- coming down the list after poetry, cinema, and television respectively.
Although there were few at the start of the parade, the center of town was packed with onlookers and children as the balloon figures passed through streets of the center of Brussels.
A special light and sound show was held on the Palace Royale last Saturday night where people could see projected comic strip images and 3-D animation on the old buildings around the square.
Editor:Liu Fang |Source: CNTV.CN