Watch Video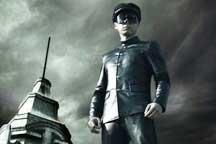 Play Video
Stories of the legendary Chinese hero Chen Zhen have been told numerous times on screens both big and small.
The fictional figure has been depicted by Bruce Lee in 1972's "Fist of Fury," and by Jet Li in 1994's "Fist of Legend."
This time around director Andrew Lau presents his own understanding of the hero in a film called "Legend of the Fist" starring Donnie Yen. So, are there any differences?
"Legend of the Fist: the Return of Chen Zhen" showed out of competition at the Venice film festival, which just concluded in Italy.
It tells the story of legendary hero Chen Zhen who disguises himself to infiltrate a mob, which forms an alliance with the Japanese. The film filled the canals of Venice with its kungfu zeal as it was an opening flick for the Festival.
Leading the cast are Donnie Yen, who plays the title role, and also Huo Siyan, Huang Xiaolei, and Golden Horse Award winning actress Shu Qi.
The film is directed by Andrew Lau, who is well known for his "Infernal Affairs" trilogy.
Andrew Lau, director , said, "Previously we had the Bruce Lee version of Chen Zhen, and also Jet Li's version. So we want to make something new, something totally different."
It was in 1972 that the fictional figure Chen Zhen first stepped onto the silver screen. In that classic, the hero was portrayed by Bruce Lee. By then many thought Bruce Lee's version could hardly be exceeded by any other predecessors.
Other action stars taking the role of Chen Zhen included Hong Kong actors Bruce Leung and Jet Li.
In Jet Li's version in the 1990s, Chen Zhen is portrayed not only as an action hero armed with unparalleled Kungfu, but also someone with common people's feelings.
No matter how Chen Zhen evolves with the times, it seems his signature Sun Yatsen's uniform and the dual Nunchakus he uses are always the must-have elements. And in the latest version "Legend of the Fist: The Return of Chen Zhen", the action hero becomes a high tech-savvy and quick witted guy. For instance, he can play musical instruments and speak a foreign language.
Quoting director Andrew Lau's words, this time Chen Zhen "is intelligent like 007."
Related stories
Editor:Liu Fang |Source: CNTV.CN