Watch Video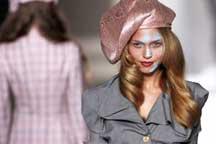 Play Video
For more from London Fashion Week, let's take a look at the catwalk shows of a few of the big-name fashion designers that got things going on Sunday.
Julien MacDonald brought back the sex kitten to the London catwalks on Sunday with an array of looks to entice.
The Welsh designer also looked to parachutes for inspiration with lightweight parka jackets teamed with parachute straps, striped shorts and skirts and billowy blouses and capes.
Baby doll dresses inspired by Sharon Tate in "The Valley of the Dolls" brought a nostalgic 70s feel to the collection, with the decade also proving a popular source of ideas for designers from Marc Jacobs and Michael Kors in New York.
A few flashes of color jolted the fashion pack on the runway including an orange empire dress topped with a red bomber jacket, and blue baby doll dress with elongated skirt.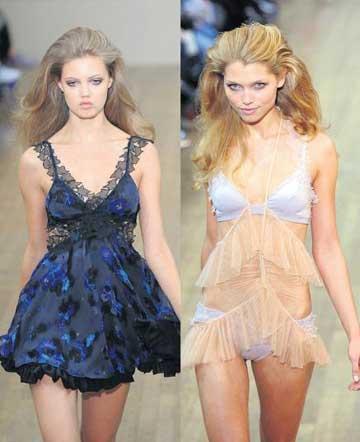 Julien MacDonald brought back the sex kitten to the London
catwalks.
Also on Sunday evening, designer Vivienne Westwood brought her trademark tailoring to the catwalk at London Fashion Week.
The spring/summer show for her offshoot clothing line Red Label showed off a youthful and eclectic mix of clothing and accessories, featuring Westwood's famous checks and stripes, structured jackets and trousers, turban style hats, pretty florals as well as tougher looking dresses worn with ripped tights and boots and a slinky silver number to finish the show.
Matthew Williamson proved he is still the king of boho-luxe. Showing his 2011 spring/summer collection in a disused power station at London Fashion Week, the designer sent out dresses fit for a red carpet.
Floaty whimsical silk creations in feminine colors came out alongside short tailored styles, many of which featured metallic details.
Trousers were safari style with high waists, shoes were platforms and fringing adorned many outfits.
London Fashion Week ends with menswear day on Wednesday.
Related stories