Watch Video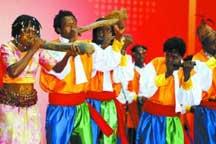 Play Video
The Central African Republic, like its name suggests, is located in the heart of the continent.
The nation, which has about 60 indigenous tribes living in its territory, has celebrated its Pavilion Day with traditional beats and mesmerizing dance moves at the Shanghai World Expo.
Some of the tribal music has been recognized as a world intangible heritage. Central African Republic natives proudly pumped up the volume on the Expo Stage. The event has turned the spotlight to the landlocked country located at the heart of the continent.
Much of the nation consists of flat or rolling plateau savanna, most lying between 700 and 1,000 meters above sea level. That terrain combines with tropical weather to create a paradise for wild animals, including some rare species like the black rhinoceros. Diamonds, coffee, cotton, and timber are the country's four pillar industries.
With some 60 tribes living in its forests or mountains, dome-roofed huts are the typical dwelling for the country's indigenous people. They also live in close proximity to their livestock.
Rich timber resources provide ample material for local artists to create the works of which they are proudest, wood carvings.
Pieces on display at the Pavilion touch on themes of the Central African Republic's people, animals, forests, and water.
Painters are also on hand to pour colors on canvases, creating pictures in which resources and the economy are developing in balance.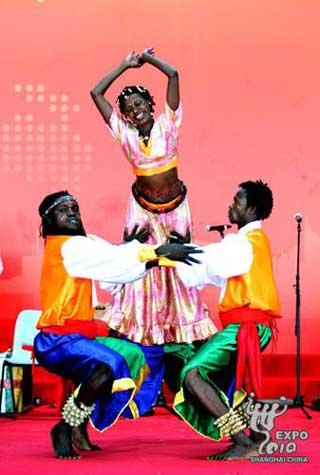 The Central African Republic Pavilion shows distinctive
landscape
Related stories