Watch Video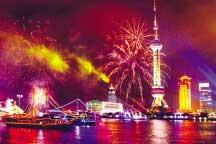 Play Video
With China's National Day holiday coming soon, a special set of concerts, exhibitions, and movies are on hand to entertain audiences over the following weeks.
So, grab a pencil and get ready to mark your calendar as we present our Coming Attractions for the month ahead.
The 15-day Beijing International Art Biennial opened at the National Art Museum of China on Monday. This year's exhibition displayed over 500 pieces of artworks from more than 100 nations in the form of paintings, sculptures, and videos. With "ecology and homeland" as this year's theme, the artists are calling on people to protect the environment. Exhibited works concentrate on art created with the earth's ecological problems in mind, and an enthusiasm for protecting our mother earth.
40 top overseas percussionists from around the world will soon perform for the 2010 International Percussion Music Festival at the National Center for the Performing Arts in Beijing. It's rare to experience such a feast of percussion music in China. And some of these musical instruments will be making their China debut. So get your ears ready for variety as these musicians will present six differently styled concerts over a nine-day period from October 6th to the 15th.
Over 1300 years ago, the first and the only Empress in Chinese history, Wu Zetian, was preparing to enthrone herself, but was threatened by a mysterious opposing power. Detective Dee was appointed to investigate the threats. Now, Kongfu movie "Detective Dee" highlights this fantasy adventure during the Tang Dynasty. Hong Kong Superstar Andy Lau plays "Detective Dee" and mainland actress Li Bingbing plays a beautiful officer in the movie. After entering into competition at the Venice Film Festival this year, "Detective Dee" will be released next week in China.