Watch Video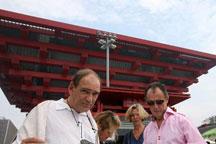 Play Video
Over the next thirty minutes, we'll bring you the latest news from the Shanghai World Expo and China's National Day holiday celebrations. So, sit back, relax, and let's get started with our first story.
China Pavilion at the Shanghai World Expo takes visitors on a journey of discovery. By taking an indoor excursion train, pavilion visitors share a dialogue with China's past, present, and future. So, all aboard! as we set off on our own tour through time.
Take a ride on this train, and you'll be taken on a journey of discovery. After passing through some signature ancient city gates, we'll start the trip by appreciating the symbolism of bridges, a connection for people and life, whether centuries ago or today. Stone bridges of ancient China are rebuilt here, setting up a dialogue between them and their modern transformation, which are projected on the surrounding screen walls.
Cross the bridges, then enter the forest of "Dougong," or the brackets. Dating back more than 2000 years ago, "Dougong" is one of the greatest inventions in the history of Chinese architecture. It's a symbolic element of Chinese construction. The small brackets make it possible to construct grand wooden structures without the use of nails. Examples include the Forbidden City and the Temple of Heaven.
Both are must see spots for any visitors coming to Beijing. The two ancient complexes highlight the ancient capital's urban plan, which is also cast on one side of the tunnel. While the other side it's today's Beijing, intertwined with the future blueprint of the metropolis.
The last stop of the ten-minute trip features lovely gardens. Stones, pavilions, bridges, some of the most representative symbols of Chinese gardens are illuminated, surrounded by displays of how China's modern cities are turning green.
Editor:Zhang Pengfei |Source: CNTV.CN