Watch Video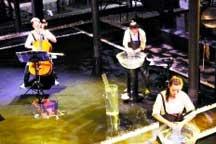 Play Video
Imagine a stream of water falling from the roof of an ancient Shanghai house as you sit listening to the Bauhaus. This is the newly-designed architecture music titled "A Drip From The Roof."
Its composer, Tan Dun, is best known for his musical score of martial-arts movie "Crouching Tiger, Hidden Dragon." And this autumn, he brings us an unique listening experience.
During the over 60 minutes of the performance, drips, crossbeams, and even steel pillars become like musical instruments. The small pools are used as water drums, while the crossbeams are played for rock music.
Not only does the piece borrow from nature, the artist also makes use of the sounds of people reading at a nearby Chinese temple.
As a key part of the ongoing Shanghai International Art Festival, the concerto will be preformed about 20 times during the National Day Holiday.
Editor:Zhang Pengfei |Source: CNTV.CN