Watch Video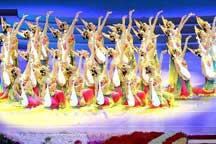 Play Video
Excellent performances have livened up the world expo stage since its opening in May. An average of 120 shows every day has provided the daily throng of visitors with a dazzling and unforgettable experience of a lifetime.
Swing your body to an Angolan beat there are few places better than here to take in genuine aboriginal culture. Diversified as their geographical locations may be, countries from five continents have all dug into their respective traditions to impress expo visitors. The result is a pristine array of singing and dancing, adding a dash of color and vigor to the world expo.
"These are the squares where you can savor authentic culture from faraway regions. The energy goes on all day and picks up a more dynamic tone in the evening."
Street dancing, brought right from its hometown in the Bronx, New York, drives the summer heat to new highs.
Visitor, said, "The actors knows how to jazz up the crowds."
"It's such a great night out."
And there's more to it. Street dramas from the UK, mingled with acrobatic stunts tickle the fancies of spectators.
Combining theatrics and tradition, this flamenco dancer presents a history both old and new. It's Spain's attempt to showcase the classic and the modern.
The Classics are a recurring theme on the expo stage. Chinese musicians gathered in a celebratory concert in early August to pay tribute to the World Expo. Chinese soprano Dilber and violinist Li Siqing were among the thirty-member stellar cast, offering their blessings through music.
"Incredibly six hundred shows have been scheduled in the public squares, expo theatres and this newly-built expo performance center just behind me, making the expo the world's hottest stage this summer. The artists make every effort to engage audience members during performances. "
Sometimes the fun calls for the use of the human face as canvas. Indeed, it's much more enjoyable to be a part of the action yourself.
Three thousand interactive activities have been arranged for the expo. And this number does not even include those held inside the pavilions.
Visitor, said, "I am so excited, as if I am in a carnival. I love it!"
The multitude of performances has opened the world to visitors, while at the same time offering a memory they can hold dear to their hearts.
Editor:Zhang Pengfei |Source: CNTV.CN