Watch Video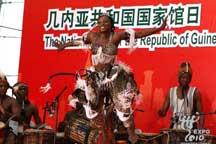 Play Video
Guinea was featured Saturday during pavilion day at the Shanghai World Expo. The west African country is displaying how to achieve urban development under different contexts of environment and natural resources.
Wood sculptures demonstrate both an environmental and cultural legacy of Guinea. Wood is the most popular material in African sculpture. In Guinea, wood is not taken until a tree perishes naturally in the four major forests in the country.
The 6th generation of the Sidime family, well known for wood sculpture in Guinea, is at the fair to demonstrate their traditional art.
Located in western Africa, Guinea is home to more than 9 million people from more than 20 ethnic groups.
Though listed as one of the least developed countries by the UN, Guinea has rich natural resources. Regarded as a geographic miracle, Guinea holds two thirds of the world's aluminous soil, some 7 billion ton iron ore and 25 to 30 million karats of diamonds.
The people of Guinea are also proud of their rich and diverse culture. They believe that a life without music won't be happy. Modern Guinean artists are building bridges connecting the world to unveil the mystery of their history and culture.
Editor:Zhang Pengfei |Source: CNTV.CN