Watch Video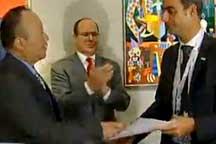 Play Video
Even in Monaco, you can now receive CCTV. China International Television Corporation and Monaco Telecom signed an agreement Friday morning. The deal means that when you stay in Monaco hotels, you can still watch CCTV programs.
After the signing of the agreement in Monaco Pavilion at the Shanghai Expo, CCTV Chinese Channel, Spanish Channel, and French Channel became available in every corner of Monaco. People can also enjoy CCTV programs in more than 90% of the hotels in Monaco.
Martin Peronnet, Monaco Telecom CEO, said, "Nowadays, many Monaco people are learning Chinese, and a lot of foreigners in Monaco are also learning Chinese, we hope CCTV can act as a window to introduce Chinese culture to Monaco people in French, Spanish, and Chinese."
Located on the northern coast of the Mediterranean Sea, Monaco is surrounded on three sides by France. But its limited land resources don't effect its attractiveness. It is famous for the world's largest casino and F1 Grand Prix. In the eyes of luminaries, celebrities, and travelers, it's just like heaven.
Li Jian, China International Television Corp., said, "This is a big event in cultural exchange between China and Monaco. The two countries enjoy very good friendship. For many travellers, including Chinese travellers, Monaco is an ideal destination. I believe that with the entrance of CCTV INT'L Channels in Monaco, our culture can better communicate and be understood by more people."
Up till now, CCTV has signed agreements with 279 media organizations around the world. Now, an overseas audience of more than 150-million in 140-countries and regions are able to enjoy its programs.
Editor:Zheng Limin |Source: CNTV.cn