Watch Video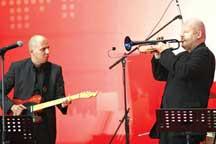 Play Video
Luxembourg is one of the world's smallest sovereign states. The nation has an old saying -- "small is also beautiful."
As the country celebrates its national pavilion day at the Shanghai World Expo, let's see how the tiny territory incorporates its past with the present.
At the opening ceremony a band of five performs a concert, fusing jazz with popular Chinese folk song "Jasmine Flower."
It is said that three Luxembourgers can perform a mini concert. It's because people there enjoy a leisurely life and have plenty of time for music and other art forms.
The Luxembourg pavilion attracts attention with its national symbol statue "Golden Lady." Holding an olive branch wreath above her head, she is set to bring hope and peace. The sculpture was made in 1923 to commemorate the three-thousand soldiers who died during World War II. It is regarded as a state cultural heritage item in Luxembourg. This is the first time the symbol has left Luxembourg.
Occupying just a small area at the expo site, the pavilion makes full use of the limited space by integrating wisdom and imagination to demonstrate its theme of "Small is Also Beautiful."
The pavilion design concept comes from the literal Chinese translation of Luxembourg - "forest and fortress." Its profile is inspired by the medieval tower. Visitors can watch videos, or take a rest while enjoying the scenery of the green roof. Children can also play in the game area at the open wing tower.
The design presents Luxembourg's reputation as the "Green Heart of Europe" by demonstrating the concept of sustainable development. Built from steel, wood and glass, all recyclable materials, the pavilion is a perfect example of a modern and comfortable lifestyle.
The 25-hundred square kilometer triangle-shaped country borders Germany to the east, France to the south, and Belgium to the west. The most important influence on the nation's cultural is its location between the French and German culture realms.
Editor:Liu Fang |Source: CNTV.CN