Watch Video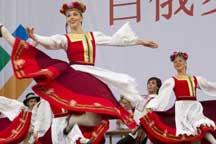 Play Video
The Republic of Belarus celebrates its national pavilion day on Monday at the Shanghai World Expo.
With colorful cartoon drawings in the exterior and interior of the pavilion, the Belarusian artists created a fairytale kingdom for every Expo visitor to explore.
Occupying an area of more than one-thousand square meters, the exterior of Belarus Pavilion was decorated by Igor Rimashevski, a well-known Belarusian artist.
The overall idea of the design was simple: to cover up its visual platitude. It was decided that Igor Rimashevski could step in and add his colorful outlook and optimistic mood to the plain quadrangular frame of the pavilion.
His images along with those painted by Belarusian pupils, are also used to decorate the interior of Belarus Pavilion. Organizers chose to employ video, holographic and other visual media to display the country's achievements in urban development, to showcase cultural diversity and to introduce scientific and technical innovations.
At the same time, the interior is dominated by two main colors, green and blue, to emphasize the natural treasures and uniqueness of Belarus with its beautiful woods and lakes.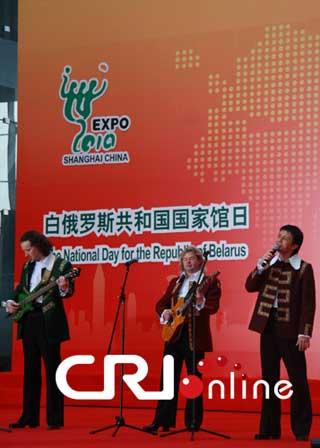 The Republic of Belarus celebrates its national pavilion
day on Monday at the Shanghai World Expo.
Belarus is a landlocked country in Eastern Europe, and is part of the former Soviet Union. It was devastated in World War Two, during which Belarus lost about a third of its population and more than half of its economic resources. The Republic was redeveloped in the post-war years.
Reminiscent of the nation's efforts in rebuilding itself, the cultural and historical relics of the country and its capital city Minsk are exhibited.
The Belarusian government sponsors annual cultural festivals such as the Slavianski Bazaar in Vitebsk, which showcases Belarusian performers, artists, writers, musicians and actors. The Ministry of Culture finances events promoting Belarusian arts and culture both inside and outside the country.
The tourists and residents of Shanghai have already seen performances of folk bands representing various regions of Belarus. Now, Belarus Pavilion is the center stage for performers representing Minsk Oblast.
The highlight of the national pavilion day of Belarus is the concerts of Belarusian performers, including the Pesnyary, Khoroshki music groups and the Vladimir Mulyavin music theatre and other artists.
Editor:Liu Fang |Source: CNTV.CN