Watch Video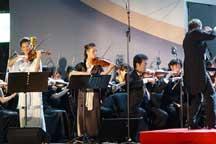 Play Video
For the first time ever, a Chinese cartoon is entering the concert hall in the form of a symphony.
Ahead of its world premiere, performers at the Shanghai Expo's European Stage had their last rehearsal over the week-end. Let's see what this unique adaptation is like.
The Shanghai Wanfang Youth Symphony Orchestra begins the show by presenting the works of traditional Norwegian composers like Ole Bull, Edvard Grieg, and Geirr Tveitt, led by conductor Kjell Seim. This helps audiences gain a greater understanding of the Scandinavian country's music.
Young Norwegian composer Martin Romberg then enters the spotlight alongside violin-playing sisters Sara and Catharina Chen. Dressed up like two warrior girls, the duo provides a charming performance for the crowd.
Romberg and the Chen sisters have put together a concert suite built on a Chinese cartoon called "The Moon."
The story of "The Moon" follows a young warrior girl, the female spirit in her sword, and their adventures in ancient China at the time of the three kingdoms.
The concert playing simultaneously with a screening of a motion graphic animated version of the cartoon.
This creative performance is projected to give audience members special feelings about both Chinese and Norwegian music.
Editor:Liu Fang |Source: CNTV.CN