Watch Video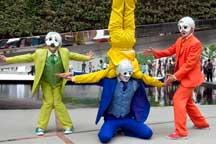 Play Video
Dazzling dances, intoxicating songs, a cultural performance at the Canada Pavilion came to a perfect end.
Top-artists, under the wings of Cirque du Soleil, presented audiences with a show full of exotic charm.
Magic dance is the ideal combination of techniques and dance. Exhilarating and enthusiastic stage performances told the latest popular trend of Canadian youth.
The blending of orchestral music and the beautiful voices from Inuit singers make one feel at peace. Inuit singers, belted out different genres of voices. They are known for their good command of breath techniques and control of voice. Audiences were transported into different zones by hearing sounds of animals, the sea, and even the northern lights from the artists.
Street Reggae Clash Soul Band burst out music with mixed features of Reggae, Rock, Punk and Soul. The melodic lines of slow rock surprised audiences with hidden lyrical R&B emotion and Latin-style Enthusiasm. They spoke out their care for society, politics and people through a quick flow of fingers.
Mark Rowswell, commissioner general of Canada Pavilion, said, "The performance of my favorite artists were wonderful, I believe the rest days of Expo will be very relaxing, because Canadian friends and Chinese friends will have enough room to do what they want, we have exhibition oriented to common citizens, and we also have concentrated and targeted business plans, all we hope is to provide a platform to cement ties between China and Canada."
The World-famous Cirque du Soleil also presented a performance, with their shows previously receiving an ovation at the American Square.
Editor:Liu Fang |Source: CNTV.CN