Watch Video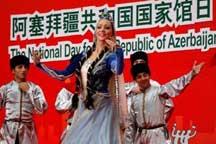 Play Video
The Republic of Azerbaijan is one of the six independent Turkic states in the Caucasus region of Eurasia.
Located at the crossroads of Eastern Europe and Western Asia, the country brings its connecting culture to the Shanghai World Expo on its national pavilion day on Friday.
Four top ranked art groups including the Azerbaijani National Dance Troupe jointly presented the opening ceremony. The country's music builds on folk traditions that reach back nearly 1,000 years. For centuries Azerbaijani music has evolved under the badge of monody, producing rhythmically diverse melodies.
The Eurasian-style pavilion, colored blue, golden and white, houses exhibitions on the history, culture and religion of cities and towns in Azerbaijan as well as the lifestyle of its urban dwellers. It highlights the important role of the country in integrating Eastern and Western cultures and in promoting the trade and communication between the East and the West.
Azerbaijani culture has developed as a result of many influences, likewise with its architecture. Many ancient architectural treasures such as the UNESCO world heritage site, the Maiden Tower and Palace of the Shirvanshahs in the Walled City of Baku, survive in modern Azerbaijan.
Also at the pavilion, visitors can see a special miniature book exhibition displaying some 170 Azerbaijani books and 280 Chinese publications. There's an amazing variety, and the smaller ones are barely fingernail-sized.
Editor:Zhang Pengfei |Source: CNTV.CN