Watch Video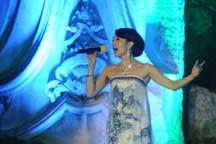 Play Video
Gala marks 150th anniv. of looting of Yuanmingyuan
150 years after the foreign invaders' looting of Beijing's Yuanmingyuan Garden, or the Old Summer Palace in Beijing, a commemorative evening gala was held at the Dashuifa Ruins on Monday night.
Let's find out what transpired at this significant event.
Singing at the well-lit Dashuifa Ruins, Hong Kong movie star Jackie Chan joined mainland singer Wang Ti in a chorus of the song "Country."
Organizers of the gala from the Yuanmingyuan Cultural Relics Bureau sent out a proposal on this night, calling for all the looted treasures to be returned to Yuanmingyuan, and for everyone to denounce the illegal auction of Yuanmingyuan relics.
Jackie Chan was the first to sign the proposal. He was also appointed as the ambassador of the return of Yuanmingyuan relics.
Jackie Chan said, "When I learned about the illegal auction of the zodiac animal heads at Christie's, I decided to make a movie to urge the return of looted treasures, not just for China, but also for countries like Egypt and Cambodia."
All the stars are singing for free, and Jackie Chan is not alone in the charitable cause. In "Watertown in a Dream," Mainland singer Tang Can transported the audience to the mystifying alleyways, and flowing waters, which were once part of the view in Yuanmingyuan.
Tang Can, singer, said, "When facing history today, we become more rational. But it will stay there forever, as part of the collective memory of Chinese people. We may forgive, but we shall never forget."
Chen Chusheng, singer, said, "The garden epitomizes Chinese wisdom. But the looting of it is a wound that does not heal. As a Chinese, I feel obligated and honored to attend the event."
The gala is part of a series of activities to call society's attention to the site of destruction, which was once the Garden of Gardens.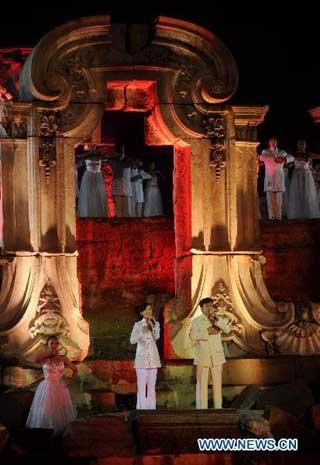 Actor Jackie Chan (1st, right front) and singer Wang Ti
(2nd, right front) sing during a ceremony marking the
150th anniversary of the sack of the Summer Palace in
Beijing, capital of China, Oct. 18, 2010. The Summer
Palace, an imperial garden built in the Qing dynasty
(1636-1911), was sacked and destroyed by the British
and French forces on Oct. 18 and 19 of 1860 during the
Second Opium War. (Xinhua/Luo Xiaoguang)
Related stories