Watch Video
Play Video
A large-scale Chinese cultural event called "Experience China in Turkey" has opened with an ethnic song and dance show in the Turkish capital of Ankara on Sunday night.
The program drew cheers from the crowd and it's only the beginning.
The Information Officer for China's State Council says that this event in Turkey shows China has attached great importance to developing friendly ties.
The opening ceremony featured folk songs and dances with the distinct ethnic flavors from seven of China's ethnic groups. In this way, China's unique culture can be introduced to the Turkish people.
Dancers from Xingjiang Uygur Autonomous Region performed a happy and energetic dance for the Turkish audience. The bright red color of the dancing cloths helped to send a message of enthusiasm.
Dance of the Tajik ethnic minority called "The Closest People To The Sun" expressed the love of children to their mothers, and the hope of living a happy life.
Kazakh's performance called "The Charm of The Girls" presented the audience with beautiful dancing, and making it clear how pretty the Kazakh girls are!
A classic dance of the Han ethnicity, named "Going Out and Dancing", describes a pleasant view of beautiful girls going out for a nature walk in spring time.
On Monday, after the opening ceremony, Chinese food comes to Ankara, and gives the Turkish people a great taste experience. The Chinese chefs show their best skills, leaving people with an unforgettable impression of delicious Chinese food.
There's an old saying: the fastest way to understand each other's culture is by eating.
The event, which will last until the end of the month, covers nine major activities, including a Chinese cuisine festival, Chinese movie and television weeks, and exchanges between journalists and writers.
Through these activities, Turkish people will certainly get a better understanding about Chinese culture.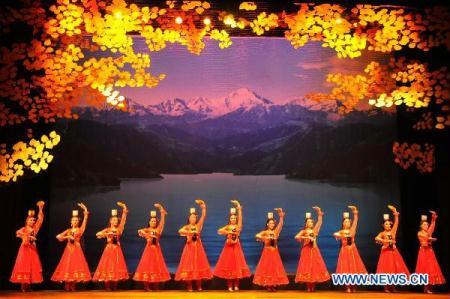 Actresses perform group dance during a large-scale Chinese cultural event
termed "Experience China in Turkey" in Ankara, capital of Turkey, Oct. 17,
2010. The event kicked off with an ethnic dance and singing show in the
Turkish capital of Ankara on Sunday night, drawing cheers and applauses
from the audiences. (Xinhua/Zheng Jinfa)
Related stories