Watch Video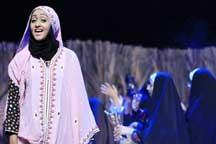 Play Video
Wednesday marks the National Pavilion Day of Qatar at the Shanghai World Expo.
The Arab country of Qatar is located in the Middle East, occupying the Qatar Peninsula on the northeastern coast of the much larger Arabian Peninsula. Qatar celebrates the occasion with a grand parade made up of the country's military marching band.
The parade marches along the Expo Boulevard slowly and steadily. The performers come from the national troupe of soldier musicians of Qatar, which was established in 1940. The troupe has toured around the world with numerous shows in Italy and the United States.
Around fifty musicians perform with their brass instruments in unison. The tunes range from traditional Arabic numbers to contemporary songs, which have struck a chord with on-lookers. Some of the spectators can't help but dance to the beat and take photos.
The Qatar Pavilion features art patterns reminiscent of the famous Barzan Tower, a landmark building in the country. The tower is located in Doha, capital of Qatar. Doha is Qatar's largest city and also the economic center of the county.
The city of Doha has made great changes since the independence of Qatar on September the 1st, 1971. Many came to know Doha through the 2006 Asian Games, which were held there. The grand opening ceremony of the Games was inspired by the legendary folk stories "One Thousand and One Nights." The grand event fully demonstrated the creativity and wisdom of the Qatari people.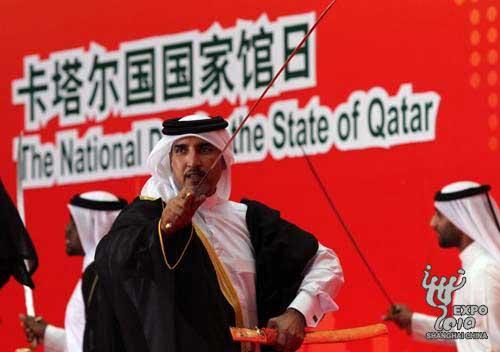 Wednesday marks the National Pavilion Day of Qatar at the Shanghai World Expo.
Horse racing is a favorite pastime of the local people in Qatar. To them, horses are the symbol of power, valor, and victory. The horse racing season lasts a comparatively long time in Doha... from October to the next June.
Fishing is one of the major traditional industries in Qatar. Visitors to the Qatar Pavilion will find a wooden fishing boat at the Pavilion entrance, which serves as a fine example to reflect the local people's love for fishing.
Qatar's national income is primarily derived from oil and natural gas exports. Qatar has the world's third largest natural gas reserves, only next to Russia and Iran. Apart from economical development, the Qatari people are keen on environmental protection and green technology.
At the exhibitions featured at the Qatar Pavilion, visitors are offered a chance to witness the prototypes for future development of the country. There's a solar-powered aero-plane, and zero carbon emission scooters.
Related stories