Watch Video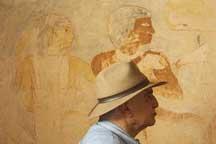 Play Video
Egypt's top archaeologist on Tuesday showed off the newly discovered tomb of a pharaonic priest. He says a find like this could point the way to a new necropolis to be excavated near the famed Giza pyramids.
Zahi Hawass said hieroglyphics on the walls of the 4,300-year-old structure indicated it belonged to Rudj-ka. He was a priest inspector in the mortuary cult of the pharaoh Khafre, the same pharaoh who built the second largest of Giza's pyramids.
Archaeologists discovered the structure about a month ago and have been excavating it since.
Zahi Hawass said, "This discovery was found next door to the tombs of the pyramid builders. But this tomb do not belong to the pyramid builders. It is a very large tomb, it could be a family tomb of someone whose name is Rudj Ka. What really important about this man, he was an inspector of the priests. He was an inspector of the priest of Khafre and also the priest of the pyramid of Khafre, and these titles are priestly titles, are connected with the person who was maintaining the cult of the king."
The tomb remains in good condition, though it had been previously broken into and looted, perhaps in the 19th century.
The tomb - about the size of a train carriage - was discovered adorned with paintings, some of them still vivid.
Hawass said that, based on the tomb's decoration, the priest would have supervised those presenting sacrifices to the pharaoh.
The tomb dates to the 5th Dynasty, 2465-2323 BC. The pharaoh Khafre died earlier, around 2494 BC, but pharaohs were often worshipped after death.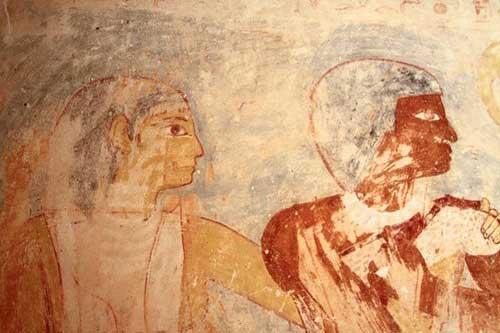 Inside of the tomb are colourful paintings.
Related stories