Watch Video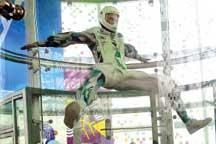 Play Video
Thursday marks the National Pavilion Day of Latvia at the Shanghai World Expo.
The Latvia Pavilion, located in Zone C of the Expo site, covers an area of around one thousand square meters, neighboring the pavilions of Denmark and Greece. So, what's in store for visitors? Let's find out together.
The architecture of Latvia Pavilion is inspired by the beauty of nature. Its facade, consisting of a number of colorful plastic plates, symbolizes mother nature and its various facets including forests, seas, lands, the sky, and winds.
The Latvia Pavilion celebrates the theme of "Innovation City of Science and Technology". And the venue is highlighted by its Wind Tunnel, where visitors are offered a chance to enjoy a free flight in a vertical wind tunnel. Here on the third floor of the pavilion, visitors will also be able to see others flying and enjoy the dynamic slide shows about the country of Latvia.
The three wind turbines are located on the roof of the pavilion. During evening hours, a professional team of flying acrobats are sent flying high above the Expo grounds. The seven Latvian tumblers say they enjoy their work very much, for it not only allows them to experience the feeling of being totally free, but also brings joys to themselves and those are willing to give it a try.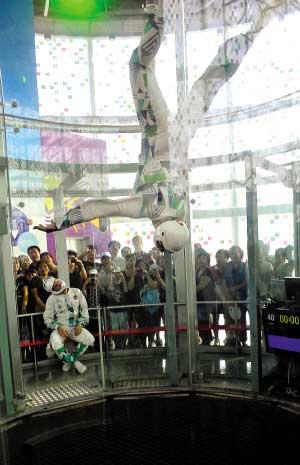 The venue is highlighted by its Wind Tunnel, where
visitors are offered a chance to enjoy a free flight
in a vertical wind tunnel.
The country of Latvia covers a geographical area of around 64-thousand square kilometers. It is bordered by Estonia to the north, Russia to the east, Lithuania to the south, and the Baltic Sea to the west. Over 40 percent of the country's territory is covered by forests. Nearly one fourth of the forests are growing on the wet land due to Latvia's temperate maritime climate, with mild summers, moderate winters, and frequently high levels of humidity and precipitation.
Latvia is one of Europe's best preserved havens for a wide variety of wildlife. A wealth of flora and fauna thrive in natural settings that are kept undisturbed by human beings.
Riga, the capital of Latvia which is also the political, economical, and cultural center of the country, contains more than one third of Latvia's population. The city's strategic location has made it an international crossroads for commerce and cultural exchange since ancient times.
Riga's elegant Old Town and distinctive Art Nouveau architecture serve as a stimulating setting for vibrant modern business and cultural life. Riga was inscribed by UNESCO as one of the world's most important cultural and natural sites in 1997.
Related stories