Watch Video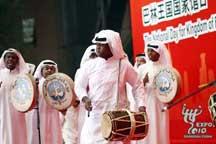 Play Video
Bahrain celebrates its national pavilion day at the ongoing Shanghai World Expo. There, the gulf kingdom is displaying how small is beautiful. Now let's take a closer look.
Walking in the Bahrain pavilion, visitors are traveling through a big abstract oyster.
Bahrain is the Arabic term for "two seas." It refers to the freshwater springs that are found within the salty seas surrounding it. About four times the size of Washington DC, Bahrain is an archipelago of 36 islands located off the eastern coast of Saudi Arabia.
Bahrain has been inhabited since the ancient times, some 4,500 years ago. One piece of evidence is the site of the Bronze age civilization of Dilmun. Bahrain was once an important center linking trade routes between Mesopotamia and the Indus Valley as early as 5,000 years ago.
Historically, the world's best pearls came from the Persian Gulf, especially around the area that is now Bahrain. Still, Bahrain remains a supplier of high quality pearls that are naturally created and collected by breath-holding divers.
And you will meet a special one in the pavilion, a big bronze statue. Cultured pearls are banned from the Bahrain pearl market, an effort to preserve the location's heritage.
Petroleum and natural gas are also significant natural resources in Bahrain, dominating the economy and providing about 60 percent of budget revenues. Bahrain was the first Gulf state to discover crude oil.
However, as it demonstrates at the expo, the country has been working to diversify its economy. Now the "Middle East lite" has become a tourist destination with over 8-million visitors a year.
Editor:Zhang Pengfei |Source: CNTV.CN