Watch Video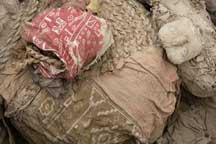 Play Video
Now to South America, where on Wednesday, archaeologists revealed four mummies that are over one thousand years old. They were found in an ancient burial site in Lima, Peru.
The preserved bodies are believed to be the remains of an elite woman and three children, one of which may have been sacrificed. Let's find out what makes this find significant.
All four mummies are from the Wari culture, a pre-Inca civilization that spread along the Peruvian coast between 600 and 1,000 AD.
The discovery was made in the Huaca Puccllana archeological complex in Lima's Miraflores neighborhood. The semi-circular tomb was found at the top of the site's main pyramid - a 25-meter structure made of adobe and clay - and was untouched by looters.
So far, archeologists have been unable to determine the age or sex of the primary mummy, but the ornamental offerings left with the body - including several ceramic vessels and textile bags decorated with amorphous drawings - suggest that it was a woman.
Archeologist Gladys Paz was led to the tomb after discovering its adobe roof.
Gladys Paz, Archeologist, said, "This time, we have found an intact tomb for this era - we are talking the second part of the 'horizonte medio' era or 850 AD - with an age of 1,150 years. Around the tomb, a principle bundle with a fake head has been noted, along with three accompanying bundles, which for their size would have been children. Two of them are from high social rank and one was probably sacrificed."
Huaca Puccllana was one of the most important sites for Lima Culture, a pre-Incan civilization, before it became taken over by the Wari. The site attracts large numbers of students and tourists from around the world.