Watch Video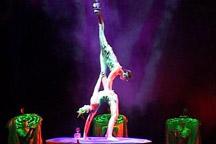 Play Video
Tianqiao, or literally the Bridge of Heaven, is best known as the place to see the most stunning acrobatics in ancient Beijing. Now a new acrobatic show, "The Treasure", hopes to revive the old glory days of Tianqiao.
"The Treasure" follows a clown's adventure as he goes off in search of treasure. The treasure immediately found by the audience is the performance by the China National Acrobatic Troupe. Many of the groups award-winning pieces from the past 60 years since the company was founded are blended smoothly into the show.
Acrobatic Performer, said, "For this show, I spent three months preparing, but I've been practicing acrobatics for many years. All the stunts need many years of practice."
Audience Member, said, "The show gives us a chance to see the beauty of China's acrobatics. The performance of those young people show us the future of the genre."
Not only led by young performers, "The Treasure" also gets a boost from new technology; for instance, the show is carried out in front of a virtual background.
Editor:Yang Jie |Source: CNTV.CN