Watch Video
Play Video
Love them or hate them, "vuvuzelas" came into global consciousness during the 2010 FIFA World Cup in South Africa. The brightly-colored plastic trumpet courted controversy with every monotone blast of its horn. But with football's showcase tournament now long over, the vuvuzelas are collecting dust. Now, thanks to an international competition organized by two South African designers, the controversial vuvuzela is making a comeback, this time in the form of earrings.
A panel of South African artists and designers gathered in Cape Town on Tuesday to chose the winning design from more than 150 photographs, videos and sketches submitted online to a vuvuzela recycling competition.
Matt Blitz, the event organizer, said the group began taking submissions in July after the one-month football tournament ended.
Out of the seven judges, five voted for the earrings.
The hoop earrings, created by Cape Town resident Megan Bernstein, consist of circular cross-sections of the long, hollow horn.
Other designs included tables, lamps, portable speakers and toilet paper holders.
Blitz said the best 50 design ideas would be sold and exhibited nationally.
As soon as Tuesday's decision was made, Blitz and McCormack started making a prototype of the earrings.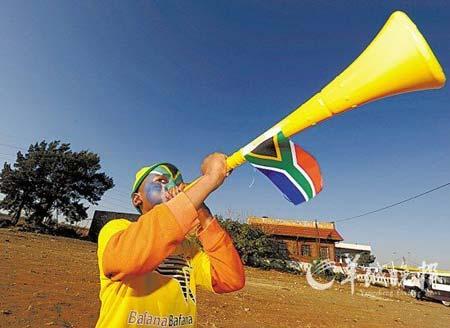 Vuvuzela is popular with fans during World Cup 2010 South Africa.
Once satisfied with the final creation, the two designers called Bernstein into their studios to tell her she had won the competition.
Bernstein also won 10-thousand rand, nearly 15-hundred US dollars for her design.
Vuvuzelas created a constant din - and plenty of debate - at games during the World Cup, with some embracing the horns and others complaining that the sound of them was disruptive.
FIFA, football's governing body, said vuvuzelas were part of South Africa's culture and supported their use.