Watch Video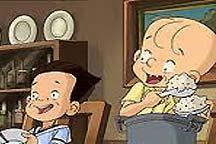 Play Video
"Wanderings of Sanmao" is China's first children's comic strip. His three locks of hair as well as his adventures were once extremely popular among Chinese people, young and old. But today, kids are more familiar with Winnie the Pooh or Mickey Mouse. To change the situation, China's animation makers are striving to design programs that pass China's moral virtues to the younger generation through the art of animation.
To revive the domestic animation industry, one attempt is to revive the old classics. Sanmao is 75 years old, but still in full swing to make today's children love him, simply because he's just one of the gang.
Zhu Min, Director of "Wanderings of Sanmao", said, "Sanmao is an ordinary person, just like you or me, him or her. And his new adventures are inspired by real stories from modern-day kids. Sanmao is as close to us as he was before. So, I'm sure audiences won't feel any distance from him."
This is the charm of Sanmao. He doesn't have any magic power like Monkey King, but those who work behind the scenes of his new adventure are trying hard to build up a kingdom of Sanmao.
Starting with the animation, they are also targeting a wider market through a whole chain of products: from prints and videos, to stationery and toys, from traditional commodities to those in the virtual world.
Zhu Min, Director of "Wanderings of Sanmao", said,"First, we want to recall people's memory about Sanmao through the animation. Next, we will make him a star not belonging to yester-year, but to the era we live in. We are trying to make a charming Sanmao for different generations."
So the 75-year-old has just begun his new journey. It's not only about his fight against pollution on the screen, but a battle to revive his motherland's animation industry.
Related stories
Editor:Yang Jie |Source: CNTV.CN