Watch Video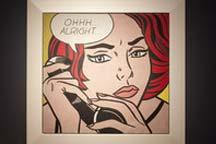 Play Video
And in New York, artworks by Andy Warhol and Mark Rothko topped the Sotheby's contemporary and post-war art auction. The pair of pop icons helped the auction house beat expectations by more than 8-million US Dollars.
Andy Warhol's black-and-white Coke bottle canvas sold for 35.36-million US Dollars, far surpassing the estimated high of 25-million. The sale was more evidence of the growing hunger for contemporary and post-war works, which in recent years have challenged and sometimes eclipsed the once dominant Impressionist and modern category.
The sale of 54 works, an impressive 91 percent of which found buyers, totaled over 222 million dollars including commission, beating the high pre-sale estimate of 214 million.
Five artists set auction records as collectors continued vying for works in the increasingly desirable category.
Sotheby's officials said they were "incredibly pleased" with the result.
Tobias Meyer, Dept. Head, Contemp. Art & Auctioneer, Sotheby's, said, "In this new market it was a huge success and the sale by rate and the way that individual lots performed within the estimate, it was a triumph. There's nothing to say, you know, Warhol triumphed, Bacon triumphed, Richter triumphed, (artist name unclear) triumphed, new art triumphed. I mean it was on every level."
It was the fourth successful sale in two weeks of critical sales for the auction house and rival Christie's, as well as for distant-third Phillips de Pury & Company.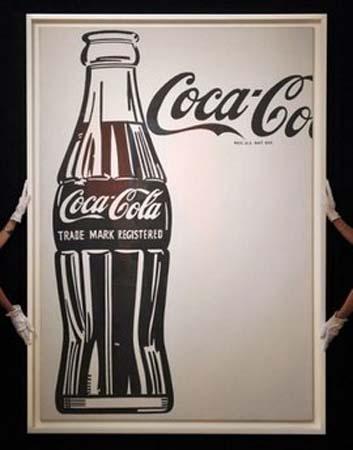 Coca-Cola [4] Large Coca-Cola," a 1961-62 painting by Andy Warhol.
(Photographer: Tom Starkweather/Bloomberg)
After a precipitous decline following the 2008 financial crisis, the art market has made a solid recovery in 2010, driven in part by a huge infusion of new collectors abroad whose fortunes have been made in oil, gas and gold.
On Monday, Warhol's "The Men in Her Life," a multi-image depiction of favored subject Liz Taylor, soared to 63.4 million dollars at Phillips.
Editor:Yang Jie |Source: CNTV.CN