Watch Video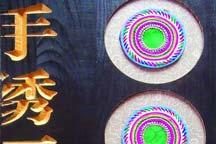 Play Video
At the Rural Culture and Art Festival, tradition inheritors showcased their unique techniques at the National Intangible Culture Heritage Exhibition.
This all-hand-made embroidery piece is called "Draping the Moon and Stars", or "Yang Pi" in the ethnic Naxi language. Sewn by Naxi people who inhabit in Lijiang city of Southwest China's Yunnan Province, it is their traditional apparel.
Yang Qihong, Naxi Embroidery Inheritor, said, "Naxi women get up early and work till dark, and the clothes are a kind of homage to their hard work. All the embroidered works indicate different meaning, like bee stands for diligence and plum blossom means longevity."
While Naxi embroidery has a practical function, the needling art popular in East China's Jiangsu Province, has a more aesthetic purpose.
Related stories