Watch Video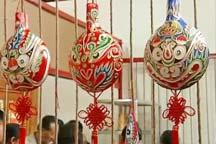 Play Video
How to protect China's rich and diverse intangible cultural legacy is a big concern. From the government to artists and art lovers, people are looking for a way to enliven those legacies rather than just displaying them in museums.
Embroidery is not only a tradition treasured by the ethnic Naxi minority but is also popular among travellers. In recent years, the prosperous tourism authority of southwestern Yunnan Province has promoted the selling of local intangible heritages as tourism souvenirs. The province is a hot travel destination famed for its bio-diversity and dynamic ethnic culture. A sale could bring an annual revenue of over ten thousand yuan for one folk artist.
Yang Lifen, Tourism Souvernir Designer, said, "We mix the skill and traditional ideas into the design of daily commodities. It's how we are trying to revive the ancient embroidery of Naxi minority people in the modern world."
In the eastern Jiangsu Province, making heritages aesthetic and practical has also brought embroidery artist Zhao hongYu more apprentices to learn and inherit the legacy.
Zhao Hongyu, Embroidery Artist, said, "Five years ago, I only had one student but now there are 7 who are willing and learning the skill. "
Sharing the experience is mask artist Li Jiyou from the northwestern Shaanxi province. For the past 25 five years, the national inheritor has been dedicated to painting masks on daily kitchen wares.
Li Jiyou, Folk Artist, said, "When I paint a mask onto a ladle, it's practical and carries some traditional symbols of auspice to drive away the evils. "
However, as the demand increases, a new concern has been born: some have tired of the time-consuming hand made process and turned to mass production by machine.
Editor:Yang Jie |Source: CNTV.CN