Watch Video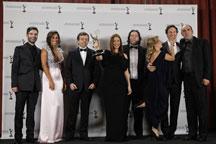 Play Video
And there were plenty of colorful costumes on hand in the Big Apple when thirty-nine nominees from 15 countries and regions contended in 10 categories for this year's International Emmy Awards, which honor excellence in TV programming outside the U.S.. At the award ceremony on Monday in New York, Britain was the biggest winner.
Producer Sita Williams of "The Street" accepted the award. The drama follows the individual stories of neighbors living on the same road in Manchester.
Bob Hoskins and Helena Bonham Carter captured the top acting awards, though neither were present to accept their trophy.
Israel's "Traffic Light," about the friendship and romantic relationships of three 30-something childhood friends, was rated Best Comedy.
In the telenovela category, Portugal won its first-ever International Emmy for "My Love," which follows three women whose lives intertwine after a plane crash.
Simon Cowell received the Founders Award in recognition of his achievements in reinventing the television talent show, then to make a difference by raising tens of millions of dollars for children's, animal welfare and other charities worldwide.
The awards are sponsored by the International Academy of Television Arts & Sciences, which includes media and entertainment figures from more than 50 countries and regions and 500 companies.
Editor:Zheng Limin |Source: CNTV.CN