Watch Video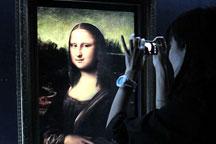 Play Video
An interactive exhibition underway in China's southern city Guangzhou has displayed copies of the world's best known paintings. But these exhibits can actually "talk" to spectators.
"The fact is that I am not smiling at all. I don't think the reason is important, as long as you love the way I look."
A talk with Leonardo Da Vinci's Mona Lisa could be many people's dream. And you now can realize it at the Interactive Exhibition of The World's Masterpieces.
Another master, "The Source", explains what has inspired the painter.
"Raise and curl your right arm, make sure your elbow is higher than your head. But I feel like losing my balance. Your pure beauty has reminded me of the source of a fountain. You can carry a pot on your left shoulder. That's it. "
The Source was done by French artist Ingres in 1856. It took him almost thirty years to complete the painting.
Mona Lisa and The Source are among the 19 exhibits at the interactive display which has successfully merged historic art with the state-of-the-art 3D technology.
The exhibition runs until January 22nd.
Editor:Zheng Limin |Source: CNTV.CN