Watch Video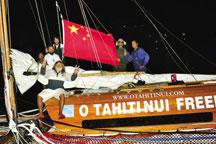 Play Video
After four months of travel by sea, the canoe "O Tahiti Nui Freedom" carrying six crew members has completed its journey that retraced the migration route of their ancestors. The canoe left French Polynesia, otherwise known as Tahiti, on July 27th, to search for the cultural roots of the Polynesians in the pacific.
On the morning of November 19th, "O Tahiti Nui Freedom" arrived on the coast of Fujian Province, in east China. Despite this hard journey of 16,000 km, navigators still look quite healthy. They finally arrived in China to find some relics and try to explain their ancestry.
Hiria Ottino, Research Scientist of Project Initiator, said, "The people of the Pacific remain a mystery. The question remains uncertain as to where the people originated. There are two main theories. The first is that the population comes from South America. Well, in 1947, there was an expedition on raft from Peru, therefore, from South America to Haiti. Today, with modern methods of DNA research, and with the research of botanists, increasingly, it is supposed that the Polynesians come probably from Asia."
From the point of view of the research, the adventurers might not realize that the odyssey means a lot to the research of the population's development.
Su Wenjing, PH.D of Fuzhou University, said, "Stone adzes are found from the area of Taiwan Strait to the Philippines, Tonga, Fiji, Tahiti and Easter Island, which is an important archaeological vestige."
But a big question remains: if the people from Polynesia are originally from Asia, how did they reach even the islands in the Pacific ocean?
"They had to have a tool, a boat, and we had only the canoe. But people thought the boat was not able to navigate in the open sea. Right now, one of our missions is to prove that the canoe, which is a boat with international standards, can quickly navigate and do it securely." Hiria Ottino said.
Besides the scientific contributions in the field of human development of Polynesia, the canoe "O Tahiti Nui Freedom", has strengthened cultural exchanges between the area of Pacific ocean and China.
Hopefully that the cultural integration of the Pacific area continues to grow stronger and become a model that will contribute to an harmonious coexistence between countries from all over the world.
Editor:Zheng Limin |Source: CNTV.CN