Watch Video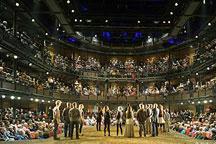 Play Video
Having undergone a three-and-a-half year renovation, the Royal Shakespeare Theater in Stratford-upon-Avon reopens its door to the general public on Wednesday. The newly renovated theater aims to combine the "epic with the intimate" by reducing the distance between actors and the audience.
The theater is located in Stratford-upon-Avon, where English poet and playwright William Shakespeare was born and raised. Shakespeare is widely regarded as the greatest writer in the English language and the world's pre-eminent dramatist.
The Royal Shakespeare Theater was established in 1879. The venue had undergone two renovations in the last century. This time around the transformation project cost more than 100 million pounds, or over one billion yuan.
The Royal Shakespeare Theater boasts a new one thousand seat auditorium with a "thrust" stage. Audience members will be wrapped around three sides of the performance area in an effort to bring viewers closer together with performers.
The architecture stays faithful to the original style of the theater, with thoughtful details catering to the needs of various audiences.
The Royal Shakespeare Company, based in the theater, will celebrate its 50th birthday next year. The troupe is planning to re-stage a number of classic Shakespeare dramas, including "Macbeth" and "Merchant of Venice" to celebrate the occasion.
Editor:Zheng Limin |Source: CNTV.CN