Cubism is no stranger in Chinese art circles. During its evolution from classic forms to present sense, cubism is regarded as a starting point of western modernism and has a wide influence in modern art history. Now the National Art Museum of China is trying to bring back the cubism times with a collection belonging to Telefonica, a Spanish enterprise that moonlights as a prestigious art collector.
The 43 paintings are one of the most important representations of Cubist Art in the world.
Based around the works of Spanish artist Juan Gris, it encompasses some twenty or so artists from Europe and Latin America, including Albert Gleizes, Andre Lhote and Maria Blanchard, who played a decisive role in the creation of the so called "historical avant-gardes."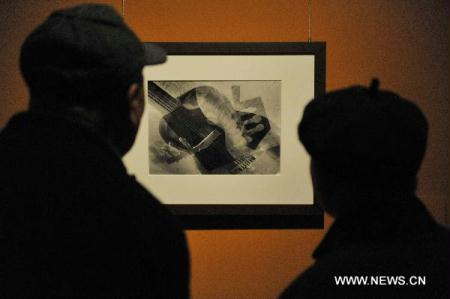 Visitors view a painting at the exhibition "Cubism Times--the Art Collections
of Telefonica" in China Art Gallery in Beijing, capital of China, Nov. 30,
2010. Over 40 pieces of cubist paintings collected by Telefonica,
Spain's telecommunication corporation, were exhibited in Beijing from
Tuesday. (Xinhua/Lu Peng)
The collection is arranged in three main sections: "the creation of a "New Cubism" spanning the years between 1916 and 1925; the relationship between Juan Gris and the development of modernity in Latin America; and lastly, the geographical demarcations of modern art where Cubism was important enough to be a starting point or an indispensable reference.
In any case, there can be no doubt that Cubism was the most important of those new expressive trends that reflected the surge of modernity at the start of the 20th Century.
In the past three years, this exhibition has visited some of the main capitals of Europe and Latin America, attracting over 600 thousand visitors. Beijing is its first appearance in Asia.
According to Eugenio Carmona, the curator of "Cubism Times", this exhibition is especially profound for Chinese art fans.