Watch Video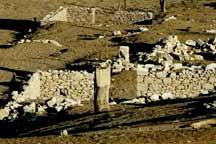 Play Video
Now we make a stop in Croatia where over four decades ago the village of Kruscica disappeared beneath a man-made lake that formed behind a hydro-electric power station. Occasionally the lake is emptied for maintenance and the ruined village emerges into view. One former resident recently made an emotional visit to his home town.
The waters of this lake in Croatia's Lika region are drained. Its stepped banks reveal the watermarks of its former depths.
And on the dried lake's bottom, stone walls emerge from the mud. This is all that remains of the village Kruscica.
Kruscica was once home to 350 people. But in the 1960s its villagers sold their livestock and packed up their belongings to start a new life elsewhere.
Their village was flooded to become an artificial lake for the local hydro-electric power station.
Now, 44 years later, Mate Balenovic, returns to his former home.
Mate Balenovic, former villager, said, "It's a bit hard, but I'm holding on, I haven't even shed a tear, although emotions are coming up. See, this was the place where I grew up."
Walking through the muddy ghost town - dotted with pieces of stone walls and stunted trees - Balenovic traces the steps of his childhood.
This ruin is all left of the village church.
The lake is drained once every decade for maintenance, revealing the village of Kruscica for just two weeks before it is submerged once more.
Editor:Zheng Limin |Source: CNTV.CN