Watch Video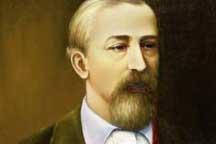 Play Video
But it's good time for the 19th-Century Russian composer Alexander Borodin. He is widely admired by both Chinese and Russian musicians. And on Tuesday, a concert aptly named "For Alexander Borodin" was held at the Beijing Russian Culture Center to commemorate the 178th anniversary of his birth.
The concert highlighted many sections of his famous works, such as opera "Prince Igor" and romance "Sleeping Princess".
Born in 1833, Borodin was a famous Russian composer and chemist. His musical career began in the mid-19th century. He wrote many vocal musical romances, arias and poems. In 1862, he became a member of the The Five Group, composed of five like-minded aspiring musicians.
He then created a good number of famous works, such as Symphonies No.1 and No.2, the symphonic poem "In the Steppes of Central Asia", and the opera "Prince Igor." Regarded as his most significant work and one of the most important historical Russian operas, "Prince Igor" is a showcase of Borodin's strong lyricism and rich harmonies.
The 90-minute memorial concert struck a chord with Chinese audiences, most of whom grew up under the strong influence of Russian art and culture.
And host of the concert, Katya Llyakhina, who is also a well-known conductor herself, said she was deeply impressed by the warm response of the Chinese audience.
Ekaterina Llyakhina, Russian Conductor/Art Director, said, "Today's concert, which was held in the Russian culture center, was very successful. I'm very glad to see that so many Chinese are interested in Russian culture and music. Besides, I never thought that Borodin's compositions would cause such strong reactions from the audience."
Katya Llyakhina, who has lived in China for 11 years, also hopes that in the future, more Chinese will come to the Russian culture center to learn more about Russian culture and enhance cultural exchanges between the two peoples.
Editor:Zheng Limin |Source: CNTV.CN