Watch Video
Play Video
French photographer Arno Bani has unreleased raw footage of the beloved King of Pop. The unique never-before-seen snaps of Michael Jackson went under the hammer at an auction in Paris on Monday.
Despite the continuous barrage of Michael Jackson publicity since his death, the photos are nonetheless significant, hoping to offer a raw and more humanized look into one of the most talented yet controversial pop acts in history.
The French photographer says that his photos are unique because they are unedited, providing a fresh look at Jackson.
Arno Bani said, "They are unedited, and above all they are different to what he had done up until now. It was an artistic collaboration and it was work on his image, it surpasses just being photos, it wasn't Michael who just called and said, yeah, take my picture, no, he asked me to work on his look for the years to come, because he was looking for a look for the album cover."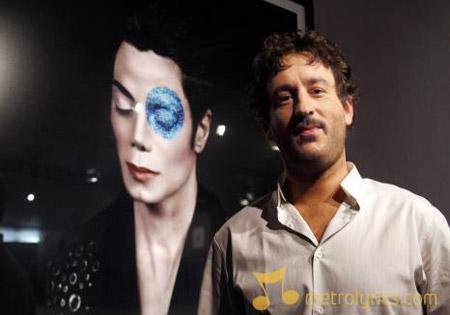 French photographer Arno Bani poses next to a picture of US singer Michael
Jackson on October 15, 2010 at the Pierre Berge and Associates auction house
in Paris. Pierre Berge & Associates will hold in December 2010, a special
auction of unreleased portraits of Michael Jackson taken in 1999 by Parisian
photographer Arno Bani. AFP PHOTO FRANCOIS GUILLOT (FRANCOIS GUILLOT/AFP/Getty
Images)
The prints were expected to fetch about 500-1,000 euros at the sale, but several went for a lot more, the highest going under the auctioneer's hammer for 26,000 euros.
Related stories