Watch Video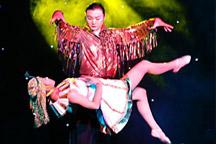 Play Video
Winning magicians of the 8th China's National Acrobatic and Magic Competition have converged on Beijing staging two performances for the capital audiences. Both newcomers and veterans of the art genres are facing new challenges in today's China.
No more than three magicians can do this in China now. It's one of the country's oldest magic tricks: on and on, a magician can always pull out something hard to hide.
It was how a magician in ancient China made a living, so it's no wonder that the secret of the magic was kept confidential, and passed only to his son. The influence of this tradition has impact even today.
The performance of the winners are astonishing. One of the winner, "Playing
with the wave on the beach"("纳海弄潮") from China National Acrobatic Troupe
is really a kind of innovation. It combine strength and soft, it is quite
innovative, people enjoy a high degree of artistic beauty and spiritual
shock. The shows give audience a vivid fishing life.(chimelong.com)
Li Yannian, Expert of Acrobatics, Magic & Puppet, said, "You can tell from tonight's performance that a lot of the tricks are ones performed using only the hands, which relies on practice. That's just how magicians worked in ancient China, whether alone or working with a family. In China now there are about 500 professional magicians who make a living on magic, but most of them work on their own, lacking money and high-tech effects."