Watch Video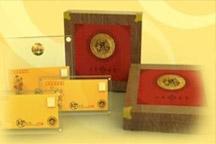 Play Video
The China Post is getting a jump on the Year of the Rabbit by creating stamps that are actually jade rabbits. You can bet all those philatelists out there are eager to add them to their collection.
Using images on the zodiac stamps in 1987 and 1999, the previous two Years of the Rabbit, the jade stamps are carved on Hetian jade, a special product of the Xinjiang Uygur Autonomous Region. This is the first time China Post adopted jade as material to make stamps rather than paper.
The stamp will have a limited release of 3000 units and will be released in January.