Watch Video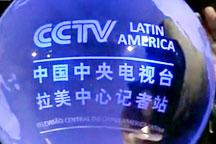 Play Video
And there's some in-house news from CCTV just south of Mexico... Hot on the heels of the establishment of its bureaus in Europe, America, Russia, Africa and Asia-Pacific, China Central Television continues its international expansion with the launch of its 6th bureau, this time in South America.
Tuesday saw the launch of CCTV's Latin America bureau in the biggest city in Latin America, Sau Paulo in Brazil, China's largest trading partner in the region. The bureau is responsible for leading and coordinating CCTV's airing, reporting and editing in the region. The bureau covers 600 square meters in downtown Sau Paulo.
By the end of the year, China Central Television will launch its Middle-East bureau, which will complete the the project setting up 50 offices around the globe with 7 main bureaus. These include the European center in London, American Center in Washington DC, Russian Center in Moscow, African center in Nairobi, Kenya, Asia-Pacific center in Hong Kong, and Latin America center in Sau Paulo.
CCTV began operations in 1958 and now boasts a network of over 19 channels that broadcast to over one-billion viewers around the world.
Editor:Zheng Limin |Source: CNTV.CN