Watch Video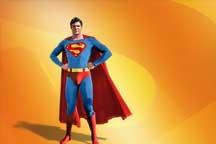 Play Video
A unique international art exhibit, based on comic books action figures, is currently touring Israel. "Mutant Superheroes In The Boulevard" is the work of a French photographer who started the project as a form of therapy.
What started as an unusual hobby has turned into a traveling exhibit: Laurent LaGarde puts superhero action figures in front of landmarks. He then photographs them and magnifies the images.
The result is widespread appeal. His superhero series is in demand in Paris, New York, and Tel Aviv. Ironically, though, the project derived from conflict.
Laurent was based in Tel Aviv with his family during Israel's 2006 Lebanon War, and as he faced the prospect of heading into bomb shelters, the action hero project was born as an outlet for fear, stress, and frustration.
Laurent Lagarde, said, "My friends and family in the US and Europe were quite worried for me, so I had to find a way to express my emotion, but also to tell them that over here there's a war, but life is going on, and things are still okay."