Watch Video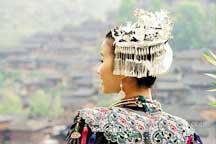 Play Video
If you're looking to experience a lifestyle without all the modern conveniences then a village hidden inside the mountainous region of Guizhou Province might just be the place. The village of Balang is able to give visitors a relaxing view into the Miao people's cultural past. Tourism to the region is increasing as more travelers learn of the village's natural way of life.
When the big trump sounds, every one in Balang village will begin their day starting with ethic dress and traditional hair styles to welcome their guests.
The preparation time for women takes about two hours every morning.
Village Resident, said, "In the past, doing my hair was an every day task, but now we only do it when visitors come. Normally it is about 15 to 20 times per month."
Balang is a typical Miao ethnic village. Residents of the village have enjoyed a happy and self sufficient lifestyle for the last two thousand years. They did not have much communication with the outside world.
Related stories