Watch Video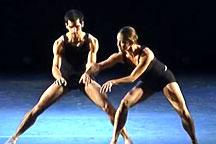 Play Video
The Spanish National Dance Company returns to China nine years after their debut in the country. Beginning on Thursday, the National Center for the Performing Arts will host the group for three nights.
The dance company will present a famous work from their former artistic director Nacho Duato.
For the first time, Bach's music is not only for listening, but also for watching.
In 1999, when commissioned to pay tribute to the German city of Weimer, Nacho Duato decided to tackle a full night of Bach. The result is this two-part Bach treatment, "Multiplicity" and "Forms of Silence and Emptiness".
Duato has translated the powerful baroque compositions of Bach into a rich naturally fluid language of movement.
In 18th-century dress, Bach plays the roles of observer, performer and director. In one segment, he conducts the company as though it is an orchestra. While in another, he utilizes the grace and flexibility of a dancer as his own personal cello.
As one of the best choreographers in Europe, Duato's works can be counted on for wide audience appeal. Many of his works have been integrated into the repertoires of numerous dance groups around the world.
Herve Palito, current art director of the company, explained why Duato's works are internationally hailed.
Madrid-based Spanish National Dance Company was founded in 1979. Spain is not known as a traditional ballet stronghold, so the company had to struggle to establish its identity.
When Duato took over the artistic director position in 1990, his contemporary influence successfully guided the troupe through the last 20 years. It's now one of the most popular dance companies in the world.
Luo Chen, Beijing, said, For many theatre-goers in China, their favorite Spanish performance is Flamenco. However, with more contemporary projects like this, Spanish artists are eager to show their country has much more to offer by providing performances that are just as entertaining and appealing.
Editor:Zhang Pengfei |Source: CNTV.CN