Watch Video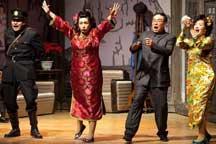 Play Video
After touring 10 cities in China with record box office receipts, the stage production "Four Generations Under One Roof" has returned to Beijing and kicked off on Thursday at Tianqiao Theater. The drama is an adaptation of famed writer Lao She's novel of the same name.
When the play starts, the story teller, played by actor Sun Honglei, appears among the audience. As the play's narrating character, Sun Honglei brings audiences into the story.
Sun Honglei, Actor, said, "When I enter through the audience, I will have close contact with the audience. The effect is we can pull the audience into the story."
Sun Honglei believes the story teller he plays is actually Laoshe, the author.
The novel is a trilogy about four generations of the Qi family and the daily lives of ordinary people in Beijing's traditional hutongs during the Japanese Occupation in 1930s.
The play has an authentic Beijing flavor with diverse characters rendered in Lao She's distinctive Language and style.
Famous actors and actresses, such as Huang Lei, Qin Hailu and Tao Hong, all play important roles in this play.
Qing Hailu and Tao Hong have said these roles are quite different from characters they've played in past performances.
Qing Hailu, Actress, said, "When the director discussed working on this project with me, I couldn't think of any role that would fit me. I joked I could probably play Da Chibao. The director felt my voice could be shaped to be suitable for this role, so she agreed with my suggestion ."
Tao Hong, Actress, said, "The role I play is an over weight woman. When you read the play, you will see how vivid the role appears in your imagination. Through this role I found it improved my skills as an actor."
The play will run till the 28th of January at Beijing Tianqiao Theater.