Watch Video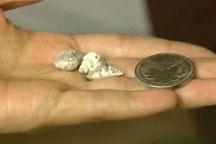 Play Video
Our next story brings us back in time Researchers at the China Academy of Science have just unearthed something new in the Sanshui Basin in South China's Guangdong province, they are fossilized sea shells that are over 50 million years old.
These fossils are merely the size of a fingernail, but they might be able to tell us something big. Through laboratory analysis, the fossils might reveal the condition of the continent during the massive global warming of 55 million years ago.
This information could shed light on our current situation and help to promote the protection of the environment amid our ever-changing global climate. Sanshui Basin is bountiful with various fossils, including fish and dinosaur eggs, but this is the first time that fossils of this type have been discovered.
Editor:Zhang Pengfei |Source: CNTV.CN