Watch Video
Play Video
January is the perfect time for winter-lovers to have fun and enjoy the various seasonal art in the world of ice and snow. A snow sculpture contest has just concluded in the northeast China city of Harbin.
Nearly 100 competitors from 14 countries gathered at China's world famous mecca of ice and snow for the 16th annual Snow Sculpture Contest. The work "Everlasting Bloom" carved by a Russian team won first place. This sculpture presented the enthusiasm for life of an old Russian couple. The second prize was shared by teams from China and Thailand.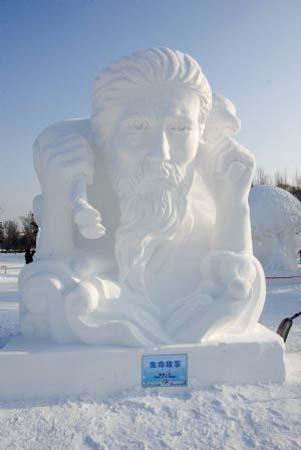 Photo taken on Jan. 13, 2010 shows a prize-winning
snow sculpture during the 15th Harbin International
Snow Sculpture Contest in Harbin, northeast China's
Heilongjiang Province. The contest, which began on
Sunday and ended Wednesday, had attracted nearly 100
contestants from nine countries and regions including
China, Russia, Britain and the United States, ect.
(Xinhua/Chen Gang)
This 4-day contest was held at Sun Island Scenic Area, which is known for its beautiful scenery and well-preserved environment. After visiting the competition, tourists can also wander around and enjoy the crisp winter air.
Related stories