Watch Video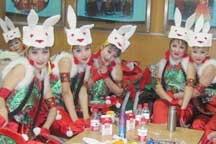 Play Video
The clock is ticking down to the annual Spring Festival Gala. The first rehearsal is scheduled to take place on Friday. People behind the show guarantee that this year's gala is original and varied.
Every year, it's a cutthroat competition for performances, fighting for the chance to perform at the CCTV Spring Festival Gala. This year, thirty performances were selected to be on the list of the first rehearsal.
But it is still too early for these performers to relax. The final Gala bill will not be set in stone until February 2nd, the Eve of Spring Festival.
In addition to a galaxy of TV and movie stars, many new faces will appear at the gala. Some are the most talked out figures on the Internet in the past year, while some others have been winners of a popular talent show on CCTV.
Chen Linchun, Chief Director, CCTV Spring Festival Gala, said, "These performers don't have professional training, but they are distinguished with their pristine and unsophisticated performances. They will give the audience a fresh feeling."
Compared to past events, the length of this year's dancing and singing section will be shortened to within an hour. " Fancy" and "luxurious" are no longer the major labels of the performances in general.
Liu Gang , Director, CCTV Spring Festival Gala , said, "The opening dance performance centers around the idea of "back home." It will be one of the key concepts that goes throughout the entire program."
A total of six rehearsals are planned before the Spring Festival Gala is broadcast live on the evening of February 2nd.
Related stories
Editor:Yang Jie |Source: CNTV.CN