Watch Video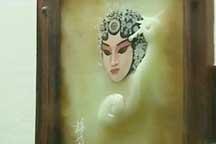 Play Video
Xiuyanjade, or Xiu jade for short, is named after its place of origin -- Xiuyan County in Northeast China's Liaoning Province. Xiuyan jade is such a high-quality material for jade carving that it is even nicknamed the "First Jade of China." Now, an exhibition displaying the Xiuyan jade carvings has opened in Shenyang, capital of Liaoning province.
Xiuyan Jade is a kind of glittering and gentle crystal that features fine quality, varied colors, high-temperature and erosion resistance. Xiu jade is a very special kind of nephrite that is more translucent and has more strains.
The origin of Xiu Jade carving can be traced back more than five-thousand years, as indicated by the excavated Xiu jade craftworks in the primitive Hongshan Cultural Site.
The exhibition also features the recent works of the established artists of jade carving in the province. The exhibition will run at the Liaoning provincial museum for two months.
Editor:Yang Jie |Source: CNTV.CN