Watch Video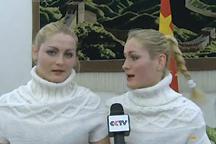 Play Video
The Chinese Lunar New Year is celebrated in both China and around the world. Recently a group of Ukrainian students got together for a showcase of their Chinese language studies.
The fun-fest opened with Yang Ge, a traditional dance form popularized in China's rural areas to celebrate a bumper harvest. It was followed by Kung Fu performances and Chinese pop songs. All programs were presented by Ukrainian children studying in the Confucius Institute in capital Kiev.
With the increasing cultural exchanges in various fields between China and Ukraine in recent years, the enthusiasm for the study of Chinese language and its culture is on the rise.
Many local students choose Chinese as the first option in their elective courses of foreign languages.
Ukrainian Student, said, "Through learning Chinese language, I can gain more knowledge of Chinese culture and Chinese history."
Ukrainian Student, said, "I spent three months in Shanghai, working as a volunteer for the 2010 Shanghai World Expo."
Zhang Xiyun, Chinese Ambassador to Ukraine, said, "So far more than 4-hundred college students in Ukraine are studying Chinese as their first foreign language. The number is impressive. I think the passion for Chinese language studies from the younger generation of Ukraine is growing bigger and stronger."
In accordance with the growing needs for Chinese language studies in Ukraine, China has dispatched batches of teachers and volunteers collaborating with their foreign peers in establishing Confucius Institutes and opening new language courses.
The language studies have become the bridge linking the two peoples and strengthening their friendly ties.
Editor:Yang Jie |Source: CNTV.CN